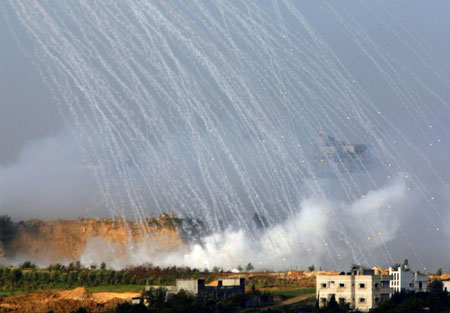 Israeli Prime Minister Ehud Olmert says Israel will continue its offensive against Hamas militants in the Gaza Strip, despite a U.N. Security Council resolution calling for an immediate cease-fire.
Hamas leaders also dismissed the measure, saying it did not take Palestinian interests into account.
The resolution, approved late Thursday by a 14-0 vote, calls for a truce leading to the full withdrawal of Israeli forces. It also demands an end to Hamas rocket attacks and calls for the unimpeded distribution of humanitarian aid.
The United States abstained from the vote, saying it wants to see the outcome of mediation efforts by Egypt.
In Gaza, Israeli warplanes carried out at least 50 air strikes overnight and early today, killing at least 12 Palestinians. Hamas also continued firing rockets into southern Israel.
Meanwhile, a U.N. report issued today said 30 Palestinians were killed earlier this week when the Israeli army moved more than 100 civilians into a house, warned them to stay inside, and later, shelled the building repeatedly.
The U.N. humanitarian office said the event took place in Gaza City's Zeitun neighborhood.
On Thursday, the International Committee of the Red Cross highlighted the same incident, accusing the Israeli military of delaying rescue efforts and failing to meet its obligations under international humanitarian law. The Israeli Ambassador in Geneva, Aharon Leshno-Yaar, said his country did not fail in its humanitarian obligation.
Gaza health officials today said a Ukrainian woman and her two-year-old son were killed Thursday by an Israeli tank shell. Officials say the woman, who was married to a Palestinian doctor, was the first foreign national to die in the conflict.
Also Thursday, the U.N. aid agency, UNRWA, suspended operations in Gaza after an aid convoy came under attack in northern Gaza and two contract workers with its Relief and Works Agency were killed. Israeli officials say they are investigating.
Israel has implemented a three-hour-a-day halt between 1100 and 1400 GMT in its Gaza offensive for the past two days, to allow humanitarian aid into the Palestinian territory.
In the two weeks since Israel began its air and ground attacks in Gaza, U.N. officials say more than 750 Palestinians have been killed. At least eighteen Israelis have died, including at least nine soldiers.